Financial advisers, also known as financial planners, advise individuals, couples and organizations on financial matters, such as spending income, saving for retirement and making sound investments. Although most financial advisers practice as generalists, others specialize in investments, savings or insurance. Individuals looking to become financial advisers must have the relevant professional qualifications and be able to follow industry regulations. Top employers include investment firms, consultancies, insurance carriers and brokerage firms.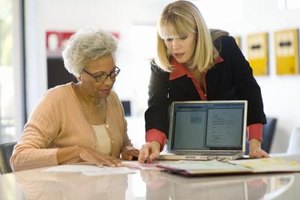 Doing the Job
To study a client's financial information, evaluate his financial goals and create a good investment portfolio, a financial adviser needs strong analytical skills. Math skills are also essential, because an effective adviser must convert currencies, determine percentages and derive financial ratios. Financial advisers also need strong speaking and active listening skills to interact and share information with clients effectively.
Advising Clients
Personal financial advisers help clients make sound financial decisions by providing all the relevant information. For example, when a client wants to buy education insurance for her children, the financial adviser analyzes the client's financial position to ensure she can afford the policy, and researches the insurance market to identify the best providers and advises accordingly. These financial advisers also help clients improve credit ratings and secure bank loans.
Maintaining Contact
After helping clients implement financial plans, such as investing in securities, investment financial advisers often keep in touch with them to discuss the progress of the investment. When a client wants to change his investment options, the adviser furnishes him with new information on potential investment options. These financial advisers also liaise with financial services providers to ensure the interests of their clients are being met.
Maintaining Compliance
Financial advisers must update their knowledge on industry regulations. For example, investment advisers who manage $110 million or more in client assets keep tabs on the US Securities and Exchange Commission to monitor changes in relevant regulations. Other financial advisers or planners usually are regulated by state agencies, such as boards of accountancy.
Getting In
To become a financial adviser, you must earn at least a bachelor's degree in economics, finance, mathematics or business. You also need to obtain a license or registration with a state regulator. Investment financial advisers running large firms must be registered with the Securities and Exchange Commission. To improve your ability to attract more clients, pursue a master's degree in business administration or earn the certified financial planner certification from the Certified Planner Board of Standards.
Getting Compensated
In 2013, the mean annual wage for personal financial advisers was $99,920, according to the US Bureau of Labor Statistics. In the same period financial advisers offering investment services was $117,460, while those working as resident advisers in companies made $92,700. Between 2012 and 2022, the bureau also estimates a job growth of 27 percent for personal financial advisers, greater than the estimated 11 percent average for all jobs.
According to the Bureau of Labor Statistics (bls.gov), in 2006 the banking industry employed more than 1.8 million. Out of these job, 7 out of 10 were in commercial banks. The banking industry has a wide range of jobs and positions available. Tellers still make up a vast majority of the employees, but other bank positions take up a large sector in the job industry in general.
Management
Within the Management field of bank jobs there are: financial managers, who oversee the bank branches and departments as well as maintain bank standards and resolve customer issues; loan officers, who go over loan applications and make recommendations on whether to approve or deny a loan; and trust officers, who handle pension funds, profit sharing and even school endowments. Occasionally, trust officers also act as the bank lawyer or accountant as well.
Financial Services
Financial services is a sales orientated position that handles the selling of the bank's services. The bank agents handle everything from deposit accounts and lines of credit to certificates of deposit and investment services. Financial service agents handle the marketing of the bank, especially when it comes to consumer credit cards and services. This has become a large part of the industry that sales agents dedicate much of their time to.
Administration
Office and Administration jobs take up the largest portion of banking jobs available. These include tellers who handle account transactions and services for customers whether they come into the bank or go through the drive-through. Also included in this classification are customer service and new account clerks who answer customer questions and concerns and most thoroughly know the bank's products and services. These positions are also in call centers, where the representatives are answering phone calls and responding to customers' emails.
Office
Office staff within a bank include many positions. These are general office jobs such as secretaries, data entry clerks and receptionists. There are also bookkeepers, accountants and audit clerks who process deposit slips and checks, enter data and maintain additional financial records and documents. Of course there are also supervisors and managers that oversee training and the day to day tasks of the office support.
Miscellaneous Support
Miscellaneous support includes lawyers, accountants, auditors and computer specialists. This is the smallest portion of the employment within the banking sector, but it is vital to the running and operations of any bank. These positions ensure that the bank is compliant with all federal regulations and codes as well as maintaining the corporate financial records. The computer specialists positions maintain all computers and software, as well as computer upgrades and electronic banking technologies.
Read more : http://www.ehow.com/facts_5390469_types-banking-jobs.html
Careers in finance span a large number of positions, in commercial banking, financial planning, private equity and more. As you prepare for your job interviews, practice possible questions and answers to help you compose yourself. You'll formulate the best answers before your finance job interview so you can get the career you want.
Biography
"Tell me about yourself." This is often one of the first questions a hiring manager will ask during an interview. Although it may seem personal, a potential employer doesn't want to hear your life story. Instead, tell him about yourself as it relates to a career in finance. Briefly list your college education and the positions you've held recently.
Experience
"How has your education prepared you for this career?" Employers want to know that you are proficient in the various math principles involved in financial careers. List the classes that you took that can help you with the job position. Spend time discussing the subjects that you excelled in over all others. If you had a 4.0 grade point average in advanced accounting, mention this to the hiring manager.
Objective
"Why have you chosen a career in finance?" Avoid answering this question with a personal anecdote. Show your enthusiasm for the career with your answer. Even if you got into finance because your parents made you, it's best to leave this out. Example: "My love for numbers and organization led me to an education in investment banking. I've wanted this as my career ever since."
Positive Attributes
"What are your strengths?" Limit your answer to one or two examples for this classic interview question. Explain your strengths in finance, such as attention to detail or multitasking. Tell a brief story of how you used it in previous finance positions. Don't list more than two strengths as this may be perceived as over-confidence by the hiring manager.
Negative Attributes
"What are your weaknesses?" Never say that you have no weaknesses in answer to this question. Instead, tell the hiring manager of one weakness. Pick a weakness that could be acceptable to a potential employer. Also list how you're working to improve that weakness. Example: "I sometimes find it hard to concentrate toward the end of a long day working on client financial accounts. I've since started going for a five-minute walk outside during my lunchtime and that helps to keep me focused."
Goals
"Where do you see yourself in 10 years?" Although you may want to retire or work for a different company in 10 years, leave this out of your answer. You should also avoid saying that you want the interviewer's career. Instead, mention how you still want a career in finance. Example: "I'd like to hold a high position in corporate finance in 10 years, using my skills with math and corporate accounts."